Click thumbnails for larger images
New screenings coming in 2018!
More dates will be posted here. Meanwhile, our first screening of the year will be held at the Ukrainian Museum of Canada, Ontario Branch in conjunction with the closing of their exhibit Trunk Tales: Leaving Home… Finding Home on Ukrainian immigration to Canada.
Thursday, April 19 
Reception: 7:00 pm, Film Screening: 7:30 pm, Reception and Exhibit Viewing: 8:45 pm
620 Spadina Avenue, Toronto
Admission at the door: $20 in support of the Ukrainian Museum of Canada, Ontario Branch
Chapters And Verses: Action Bill's Walk Through Life
This new documentary tells the story of the remarkable life of Wasyl (Bill) Kuryliw
Directed by his daughter, Oksana Kuryliw, and produced by her and her husband, John Leeson, the film has screened in Toronto, Edmonton and Sudbury in the fall of 2017.  Click here for more about Bill and some background about the film.
Watch the trailer below on this page.
NEW!  Chapters & Verses earns its director her first award!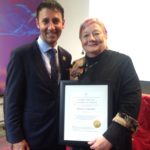 On Wed. Nov. 15, Oksana was recognized with a Canada 150 "Change Maker" award from Parkdale-High Park MP Arif Virani.
Our first screenings!
We've had three screenings in Toronto, one in Edmonton, and two in Sudbury. Photos, notes. some audience reactions (and a brief video clip of Bill's salute to "Sudbury – that's my heart") on this page.
We will also post future screenings here.
---
Trailer:
Below is a 4 minute  trailer;.  Click full-screen icon (between "HD" and "vimeo".)
---
Trailer Credits
Film Directed by: Oksana Kuryliw
Produced by: Oksana Kuryliw & John Leeson
Music
"Kalina Nehh Verba"
Traditional, performed by St Nicholas Mandolin Ensemble,
Lawrence Pshyk conductor
Used with permission of Lawrence Pshyk
"The Parting"
Traditional, arranged by Brian Cherwick & Mykola Kusch
Performed by The Kubasonics
Used with permission of Brian Cherwick
"Ma-Ma FC"
Composed by Vincent Segal
Performed by Ballaké Sissoko & Vincent Segal
Used with permission of Vincent Segal and No Format! Records
Video
Sudbury Regional Council Meeting from Northern Cable Services
Used with permission of Eastlink TV
Radio Interview with Bill
From "Memories & Music" on CKSO-FM
Used with permission of Vale Canada Limited and Newcap Radio
Photographs
Kuryliw family collection. Sudbury "Welcome" arch courtesy Bruno Zaoral
Funding for this film has been provided in part by:

Stay in Touch?
email us at:  film<at>chaptersandverses<dot>ca  or use the contact form below: